Every time a snowfall is predicted, local and national media outlets will use various computer models to generate their accumulation forecasts. We will be saving and tracking these maps all winter long with a goal of determining which media network is the most reliable in predicting snowfall. Our commentary will describe the map's successes and failures, then we will assign an Accuracy Score on a 0-10 whole number scale. We will average each agency's Accuracy Score throughout the winter and keep an updated rankings list at the bottom of each Forecast Analysis post. Note: We at PGH Snow Day understand that forecasting the weather is hard. These posts are in no means intended to criticize incorrect predictions, but to find who regularly has the most reliable forecasts for snowfall.
Our analysis will use official snowfall totals from the National Weather Service's Pittsburgh Office, tweeted publicly at @NWSPittsburgh. These totals are subject to change, and if this is the case, we will come back and update our post. All currently available totals have been compiled on this map, with the background courtesy of the NWS' Enhanced Data Display: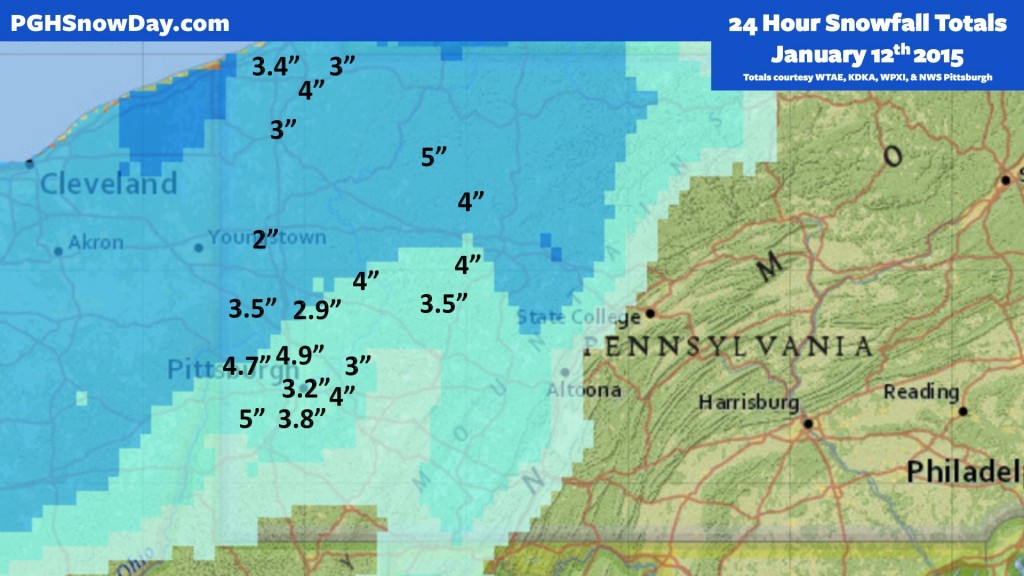 At quick glance, I worry about the success of any of the following maps because of the low totals reported from areas near the lakeshore. There also will be many predictions that undershot the 4.7″ official total for Pittsburgh.