Welcome to our first forecast analysis of the winter season. Every time a snowfall is predicted, local and national media outlets will use various computer models to generate their accumulation forecasts. We will be saving and tracking these maps all winter long with a goal of determining which media network is the most reliable in predicting snowfall. Our commentary will describe the map's successes and failures, then we will assign an Accuracy Score on a 0-10 whole number scale. We will average each agency's Accuracy Score throughout the winter and keep an updated rankings list at the bottom of each Forecast Analysis post.
Our analysis will use official snowfall totals from the National Weather Service's Pittsburgh Office, tweeted publicly at @NWSPittsburgh. These totals are subject to change, and if this is the case, we will come back and update our post. In this case, we have also included snow totals reported by KDKA-TV on the noon newscast. All currently available totals have been compiled on this map: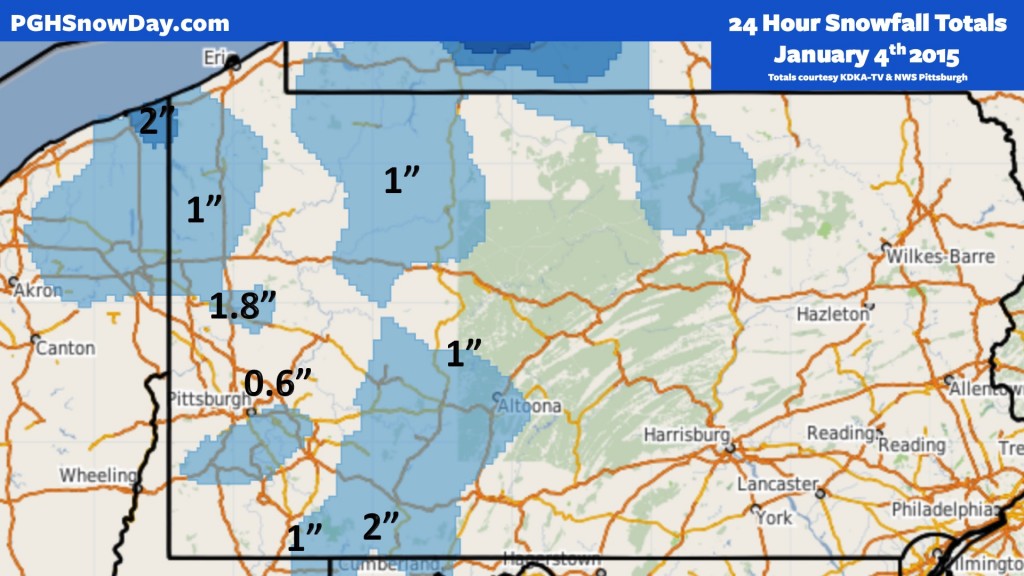 The key number on this map is the 0.6″ in Pittsburgh, which will be recorded as the storm total by the NWS. However, it is still possible for this number to change. On twitter, the NWS confirmed this is the total since midnight, so there is a chance for some additional accumulation to be added to this number from Sunday evening.
Now that we have the totals, we are able to compare the above map (courtesy of the NWS' Snowfall Analysis Tool) to the forecast maps published here yesterday.
NOTES: KDKA never mentioned the storm on their website and no snow map was ever made available.