Despite below-average temperatures this weekend, and some light snow showers in the higher elevations, it would seem that we are done with snow in Pittsburgh. There is a remote possibility that Western Pennsylvania picks up some more light accumulation (Pittsburgh did see half an inch on May 25, 1925) but for now we can shut the door on Winter 2016-17. Per the National Weather Service in Moon Township, Pittsburgh officially saw 32.0″ of snow this winter, which is below average, but more than last winter.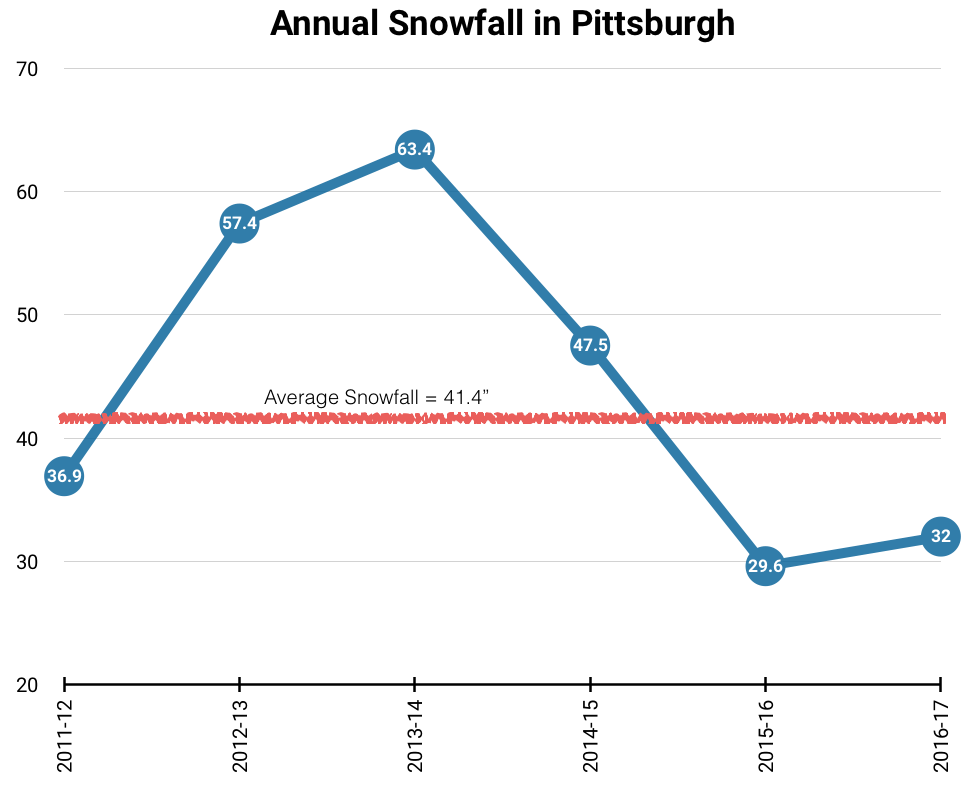 Local media outlets KDKA, WPXI, and WTAE published their Winter Weather Outlooks last fall with their forecasts for total snowfall in 2016-17. You can see which station had the most accurate prediction in our analysis post.
This winter, we tracked eight snow events and assigned accuracy scores to each forecast after a storm total snowfall was reported. As we did in 2015-16, we tracked KDKA, WTAE, WPXI, AccuWeather, The Weather Channel, NWS Pittsburgh, the NWS National Digital Model, and Intellicast.
The best forecaster this winter was WTAE, earning an even 75% accuracy score over those eight forecasts. Below are Channel 4's forecasts up against the actual reported snowfall from the past two winters.
KDKA was a close second with their 74.29% accuracy score, and The Weather Channel came in third with 72.86% accuracy. Overall, every outlet did better this winter than they did last year, even with the major "bust" storm on March 14th.
To see a detailed breakdown of each forecast from this winter, and our newly updated grades, head on over to our Forecaster Ratings page.