Every time a snowfall is predicted, local and national media outlets will use various computer models to generate their accumulation forecasts. We will be saving and tracking these maps all winter long with a goal of determining which media network is the most reliable in predicting snowfall. Our commentary will describe the map's successes and failures, then we will assign an Accuracy Score on a 0-10 whole number scale. We will average each agency's Accuracy Score throughout the winter and keep an updated rankings list at the bottom of each Forecast Analysis post. It is important to note before we get into the post that this analysis is for Western Pennsylvania. Many of these maps also have predictions for many other parts of the Mid Atlantic and Northeast, but know our discussion is only referring to the areas around Pittsburgh.
Our analysis will use official snowfall totals from the National Weather Service's Pittsburgh Office, tweeted publicly at @NWSPittsburgh. This post would not be possible without the hard work and dedication of the NWS Pittsburgh office, which worked through the night to compile hundreds of snowfall reports. All currently available totals have been placed on the following map, with the background courtesy of the NWS' Enhanced Data Display. NWS Pittsburgh Official Total: 4.9″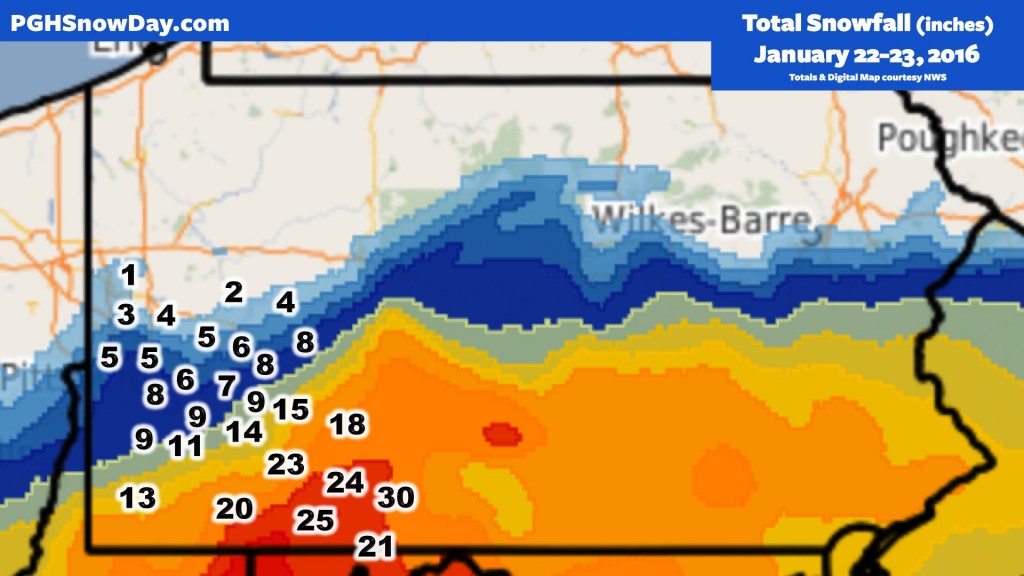 All of our analysis articles include a disclaimer, but we felt for this storm it was important to dedicate a whole paragraph to it. We at PGH Snow Day understand that forecasting the weather is hard. In particular, this storm has been an absolute bear to forecast in a huge area, but specifically the Western Pennsylvania forecast has been very tricky. Forecasting models flipped and flopped north and south all week long, and we had little idea if the city would see just a dusting or a foot of snow. This post is in no means intended to criticize incorrect predictions, but instead to allow us to see who has the most reliable forecasts over the entire winter.
NOTE: Many of the media outlets included in this post changed their maps during the storm to make their viewers better aware of what to expect. However, we cut off changes in our Forecast Roundup at noon on Friday, which are the same maps included in this post. These were the most recently updated maps just before the snow began to fall lunchtime on Friday.